Sightseeing in Paris
Raphael Reitzig
Summer 2014
Sightseeing in Paris (Summer 2014)
Relaxing from work
In June I attended the AofA conference. During lunch breaks and in the evenings a couple of doctorands banded together and walked around Paris.
Musée des Arts et Métiers
My colleague and I spent our free afternoon geeking out in the technology museum of one of the biggest Parisean universities. There are so many tools used by the old masters in there that I filled my SD card to the brim.
As a computer scientist, seeing early computing devices is particularly exciting.
After that glimpse into modern technology, we went back in time again:
We ran out of time towards the end; I may have to go back there one day.
Back for the sights
In July I went to Paris again for a weekend in order to meet some people. I stayed at Plug Inn Hostel in Montmartre near Moulin Rouge. It's a friendly, clean and affordable (by Paris standards) place to stay if you don't mind sharing room and facilities with strangers. It also has 24/7 check-in which comes in handy if you arrive in the middle of the night.
Catacombs
At some point in the past, the cemeteries of France threatened to overflow. The (alive) population summarily dug up all the rotten corpses and put the bones into their old sandstone quarry beneath the city. Add some dim lighting and you have a perfect tourist attraction.
Interlude I
The catacombs took us so long that we had to get lunch, ice cream and some rest. In that order.
Notre Dame
On to Notre Dame! Unfortunately, some international children choir meeting was taking place and getting into the building was impossible. So up we went!
Sacré-Cœur
No photos allowed inside, but you can find some online. It's a beautiful basilica with lots of mosaics (rather than paintings).
And look what we found nearby:
Classic music & Epilogue
A friend and I went to listen to a string plus harpsichord chamber concert in Sainte-Chapelle. We heard Pachelbel, Mozart and Vivaldi. It was so beautiful I did not take many (usable) pictures.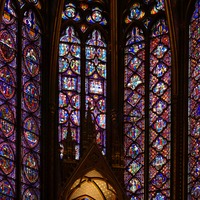 To conclude the day, we walked a bit north, a welcome breeze cooling our faces after the sunny day.
A wander through Paris
The next day I was meeting another friend in the afternoon so I decided to see a couple of things despite the weather until then.
Jardin des Plantes
One Metro ride later I ventured into one of Paris' bigger parks.
The park is home to a host of museums. Sticking to the theme established the day before, I chose the one with the most bones.
That's it! There is much more to see in Paris, of course. See you soon!